Public transport
From Schiphol Airport a train towards Utrecht leaves every 15 minutes. We use an OV-chip card to travel by bus and train. Take a look at the OV-chip card system site.
The situation from 2 July 2016. All buses are now at the Jaarbeursplein.
From Utrecht Central Station take either bus 28 or 12 (incl. timetables). Bus line 28 (Uithof/WKZ/UMC) goes through the historical centre of the town and drives past hotels like the Oorsprongpark hotel and the Maliehotel where many of our guests stay. Bus 28 stops closer to our building than bus 12. It is a 20 minutes drive.
The OV chip kaart you can buy at the train station and bus station at the booth with the pink OV-logo, and in supermarkets, or the Primera.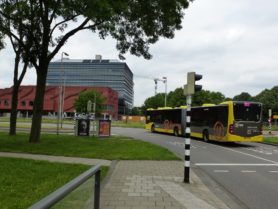 Leave the bus at bus stop the Botanical Gardens and walk in the direction where the bus came from (back). Cross the street at the traffic lights (when they are green) and walk to the brown-reddish Minnaert building with behind it the gray 7 stories high Buys Ballot Building and the Koningsberger building (glassy) on the right behind it. Walk around the Koningsberger building towards the Princetonplein. You will find us in the Ornstein laboratory.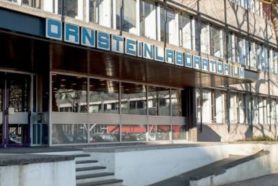 By Car
Coming from the A27/A28 you turn left towards the Uithof.
Drive on the Universiteitsweg past the sports centre Olympos and turn to the right at the Leuvenlaan (2nd road). There are no traffic lights there so beware of the cyclists coming from three sides.
Then after 200 mtr you take the road just before the traffic lights and the Minnaert building on the right side, the Budapestlaan drive passed the Koningsberger building (towards the Botanical Gardens). At the end there is a parking place. We provide guests with an exit card.
Map of the Uithof Princetonplein.
Good luck.